CD-R / DVD-R Screen Printing Services
Screen Printing is the process of applying UV inks in a variety of patterns and colors to the lacquer surface of a CD/DVD. Screen printing provides rich vibrant colors evenly distributed across the disc. Whether your needs are metallics, fluorescents or unique PMS colors, screen printing guarantees the color match you are looking to achieve.
CD screen printing and DVD screen printing are typically utilized on larger jobs that involve 500 or more discs.
Spot color (Pantone Matching System) and Process color (CMYK) printing inks are utilized.
CD-R discs can be screen printed with common art for the purpose of applying a unique thermal print at the time the disc is duplicated.
Our screen presses are integrated with visual inspection systems to ensure the consistent quality of your artwork.
Printing Project Requirements for Screen
Artwork needed – Make sure that the printing specs on this website are followed (below).
Printing Specifications
To ensure your project's success, please review the artwork guidelines below. You can also download a detailed and highly technical specification document (PDF Format).
Artwork is in the CMYK gamut or contains Pantone® colors.
Artwork has been developed in one of the preferred applications:

Adobe Illustrator
Macromedia Freehand
Adobe Photoshop 7.0
General EPS or TIFF

Artwork is vector-based (where possible).
Vector artwork that includes raster images as placed or embedded files is supplied with the original raster art, as well as the vector art.
Artwork does not bleed past the maximum dimension of the printable disc area (see Dimensional Specifications below).
Custom white floods, if being used, are provided separately from the main artwork and are clearly marked.
Text size is at least 6 point for positive and 7 point for reverse.
Fonts are converted to paths or are included.
The minimum line size is .15 mm (.43 pt) for positive and .20 mm (.57 pt) for reverse.
Pantone® and process color tints are 15% or higher (less than 15% will not screen print properly; less than 10% will not screen print at all).
Gradients do not change sharply or contain very light tints.
Artwork is being submitted via one of the following:
A hard copy of your artwork should also be submitted, if possible.
Full Size Disks
Specification A: prints from 116mm to 44mm


A Spec

prints from the outer diameter of the disc up to the edge of the mirror band and does not continue toward the center hole.
Specification B: prints from 116mm to 38mm


B Spec

begins at the outer diameter of the disc and continues over the mirror band up to the edge of the plastic stacking ring.
Specification C: prints from 116mm to 38mm, no printing from 38mm to 32.5mm, prints from 32.5mm to 20mm


C Spec

prints from the disc edge, over the mirror band, skipping over the stacking ring and printing again up to the center hole.
Flush to Center Specification (not available to all media types): prints from 116mm to 20mm


Flush Spec

allows for the largest printable area on a CD or DVD. The print begins at the outer diameter and continues uninterrupted as far as the chosen media will allow.
Perfect Print
Discs can have a customized thermal after print by using a Perfect Print "Tick Mark" (See diagram below). Click here to download the complete specification (PDF Format).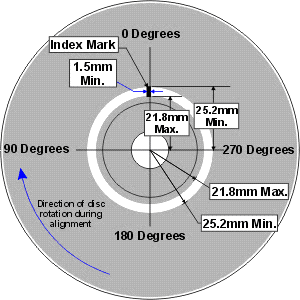 Click on images for a larger view.

Mediatec, Inc. CD-R Media Printing Specifications
Download Printing Specs Word Document: PrintingSpecs.pdf

For additional products and information, please contact Mediatec, Inc.
CD-R / DVD-R Screen Printing | CD-ROM / DVD-ROM Replication | CD-R / DVD-R Duplication and Packaging |
USB Drive Duplication and Print | Magnetic Media Data Erasure